Sie befinden sich hier:
---
Sitemap for foreign visitors
21.11.2011 08:52
News
(2011-11-20/dg0yt) ARDF@DL online, the homepage of the DARC ARDF division, moved to ardf.darc.de. We kindly ask all webmaster und visitors to update their links and bookmarks.
If you find something no longer working, please send a short e-mail to dg0yt@darc.de.
---
IARU Region 1 Championships 2011
Baile Felix, Romania
RouteGadget
If you need support, please use the online help that comes with RouteGadget. For individual support contact dg0yt@darc.de.
---
15th ARDF World Championships 2010
Opatija, Croatia
September 13 - 18, 2010
---
IARU Region 1 Championships 2009
Obzor, Bulgaria
---
Show us your routes!
Do you want to compare your route with those of other competitors? And even replay the last competition? With RouteGadget, this can be done now for ARDF competitions. You can draw your route online or upload a GPS track file. The software speaks several languages and includes an online help.
How to report problems: please send a message to dg0yt@darc.de.
RouteGadget is a software by Jarkko Ryyppö, available at http://www.routegadget.net.
---
Favourites
Information in English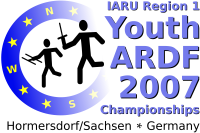 Information in German
News & more (Aktuell):
ARDF News, Results, Scoreboard, Reports, Pictures, Forum

Competitions (Wettbewerbe):
Calendar, Registration, Results, Annual scoreboards, Diploma score, Service

Information (Informationen):
DARC ARDF radiosports division, Newcomer, Competitions and diplomas, Public relations, Equipment, Downloads, ARDF Links

Public Relations (Öffentlichkeitsarbeit):
Reports, Pictures, In the media, Material, Contact

Newcomers (Jugend & Einsteiger):
What is ARDF?, Events, Material, Questions'n'answers, Contact

Forum (Forum):
Post a message, Current messages, Old messages, FAQ

Contact (Kontakt):
Staff, Local contacts, Mailing list, Webmasters, About this pages
---

To the top of the page