1st ARDF Championships in the UK
November 14th, 2005
Low cost air travel enabled a group of ARDF enthusiasts from the Ruhrgebeit to fly to England for the first ever ARDF Championships in the UK. Leaving home at 0400 they drove to Koln, flew to London Heathrow arriving at 0730, hired a car and drove the 30km to the event at Aldershot.
The competition was staged over the danger area of the Ash military firing ranges. Fortunately the British Army were not using the ranges for practice on the day of the competition! Thomas Pfeiffer DK5DF said of the area: "The competition was an interesting experience for us. The competition terrain was very different to the terrains we normally use for ARDF, because there is more moorland and not so much forest in Ash ranges. The transmitters were sited in areas of intricate spurs and re-entrants which gave many reflections and, as a result, a challenging competition. But we all had a lot of fun."
Dirk Smit DH1YHU had an impressive run and might have won had he not decided to run in M21 instead of his true class of M40. The system used in the Netherlands had been adopted to decide the winner. Everyone hunts the number of transmitters dictated by their class and the fastest time wins. Dirk had to find 5 transmitters as an M21. Had he been hunting the four required of an M40 then victory could have been his. As it was he had to settle for third place.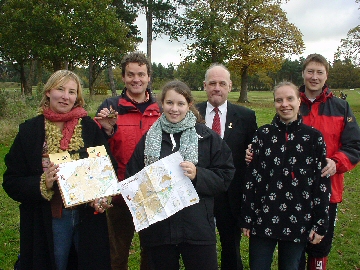 The photograph shows the intrepid travellers with Dave Wilson M0OBW, RSGB Director of Amateur Radio Development, who presented them all with a memento of their trip to England. From left to right: Doris Becker, Dirk Smit DH1YHU, Johanna Boecke, Dave Wilson M0OBW, Michaela Pastors and Thomas Pfeiffer DK5DF.
After the competition was over the group had time for an English cream tea in historic Windsor before going to Heathrow for the flight back to Germany. They got back to their homes just before midnight.
Bob Titterington, G3ORY
Further informations